Email marketing is one of the most effective and affordable ways to reach your audience, build trust, and generate sales. But how do you get started with email marketing if you are a beginner? In this blog post, I will share some tips and best practices to help you launch your first email marketing campaign.
What is Email Marketing?
Email marketing is the process of sending emails to a list of subscribers who have
given you permission to contact them. You can use email marketing to:
Share valuable content, such as blog posts, Ebooks, videos, podcasts, etc.

Promote your products or services, such as discounts, offers, launches, etc.

Build relationships with your subscribers, such as asking for feedback, sending surveys, offering support, etc.

Grow your brand awareness and authority, such as sharing testimonials, case studies, awards, etc.
Email marketing can help you achieve various goals, such as increasing traffic, conversions, loyalty, referrals, and more.
Why is Email Marketing Important?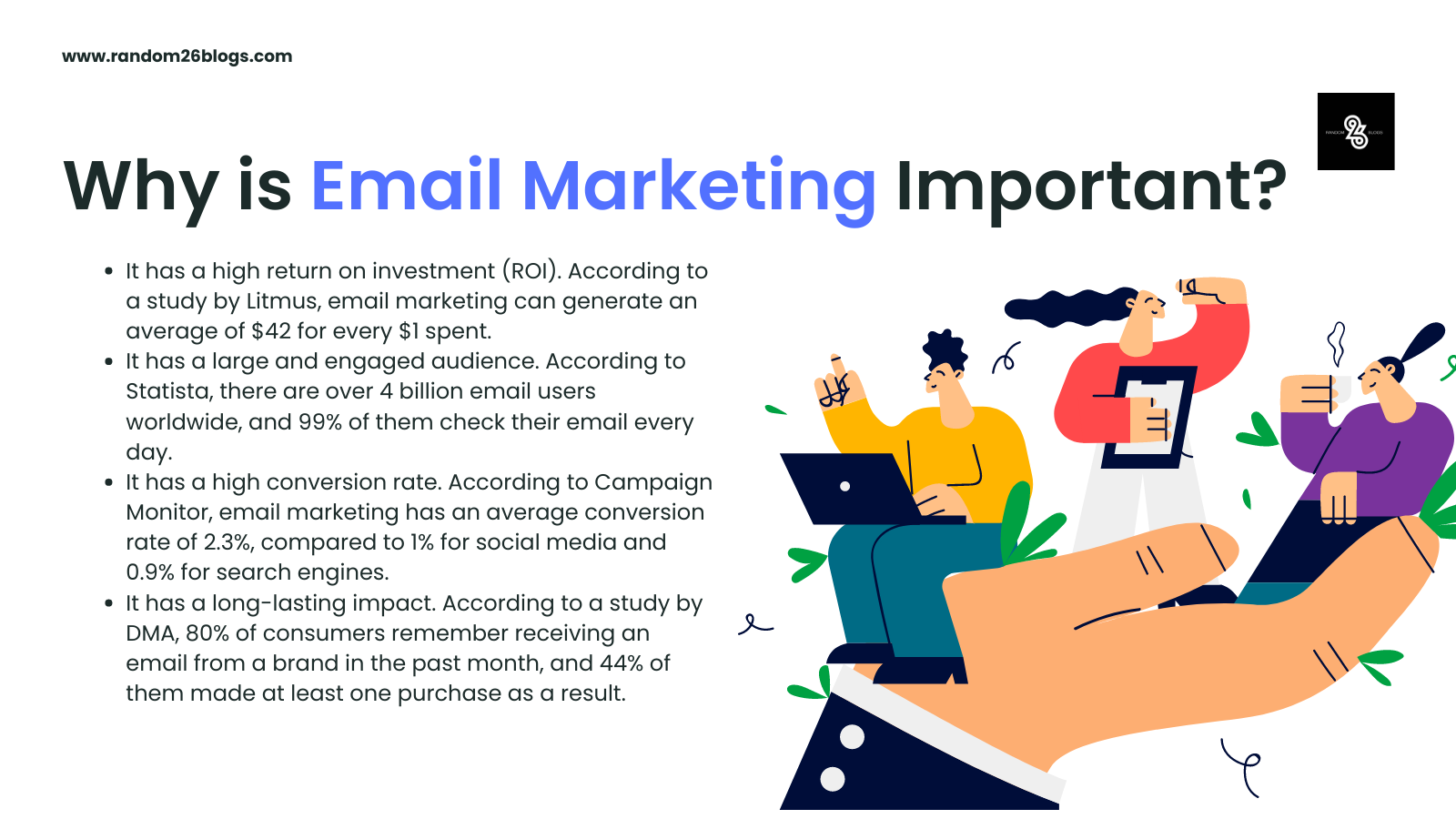 Email marketing is important because it allows you to communicate with your audience in a personalized and direct way. Unlike social media or search engines, where you have to compete with other brands and algorithms, email marketing gives you full control over your message and delivery. Some of the benefits of email marketing are:
It has a high return on investment (ROI). According to a study by Litmus, email marketing can generate an average of $42 for every $1 spent.

It has a large and engaged audience. According to Statista, there are over 4 billion email users worldwide, and 99% of them check their email every day.

It has a high conversion rate. According to Campaign Monitor, email marketing has an average conversion rate of 2.3%, compared to 1% for social media and 0.9% for search engines.

It has a long-lasting impact. According to a study by DMA, 80% of consumers remember receiving an email from a brand in the past month, and 44% of them made at least one purchase as a result.
How to Do Email Marketing for a Beginner?
To do email marketing for a beginner, you need to follow these steps:
Choose an email marketing platform. This is the software that will help you create, send, and manage your email campaigns. There are many options available, such as Mailchimp, Constant Contact,
AWeber, etc. You can compare their features, pricing, and reviews to find the best one for your needs.
Build an email list. This is the collection of email addresses of people who have agreed to receive emails from you. You can build an email list by adding a sign-up form to your website or blog, offering a lead magnet (a freebie that provides value in exchange for an email address), or using other methods such as social media, events, webinars, etc.
Segment your email list. This is the process of dividing your email list into smaller groups based on their characteristics or behaviors. For example, you can segment your email list by location, interest, purchase history, etc. Segmenting your email list can help you send more relevant and personalized emails to your subscribers.
Create an email campaign. This is the series of emails that you send to your subscribers with a specific goal or purpose. For example, you can create an email campaign to welcome new subscribers, educate them about your brand or product, nurture them toward a purchase
decision, or re-engage them after a period of inactivity.
Write an engaging subject line. This is the first thing that your subscribers will see when they receive your email. It should capture their attention and entice them to open your email. You can use various techniques to write an engaging subject line, such as asking a question, making a promise, creating curiosity, or using humor.
Write an effective body copy. This is the main content of your email that delivers your message and persuades your subscribers to take action. You should write an effective body copy that follows these principles:
Use clear and concise language

Use short paragraphs and bullet points

Use headings and subheadings

Use images and videos

Use a friendly and conversational tone

Use personalization and segmentation

Use emotional triggers

Use calls-to-action
Test and optimize your email campaign.   This is the process of checking and improving your email campaign before sending it to your subscribers. You should test and optimize your email campaign
for:
Deliverability: Make sure that your emails reach your subscribers' inboxes and not their spam folder.

Formatting: Make sure that your emails look good on different devices and browsers.

Performance: Make sure that your emails achieve your desired goals, such as open rate, click-through rate, conversion rate, etc.
You can use various tools and methods to test and optimize your email campaign, such as A/B
testing, analytics, feedback, etc. Email marketing is a powerful and cost-effective way to grow your business and connect with your audience. By following the steps above, you can start your email marketing journey and create successful email campaigns that deliver value and results. Happy
emailing! 💌