"Sweet Night" by BTS's V: A Heartwarming 100M Views Milestone!,The global fascination with South Korean culture, often referred to as the "Hallyu Wave," continues to captivate audiences worldwide. A recent and noteworthy milestone in this cultural wave is the outstanding success of BTS's V and his solo OST track 'Sweet Night' for the immensely popular K-drama series, "Itaewon Class." This ("Itaewon Class" OST 'Sweet Night' by BTS's V: A Heartwarming Milestone of 100 Million Views) soulful and evocative song recently achieved the remarkable feat of garnering 100 million views on YouTube, underscoring the enduring global impact of K-dramas and the far-reaching influence of BTS. Let's delve into this musical journey and the profound impact it has had on fans and enthusiasts worldwide.
Table of Contents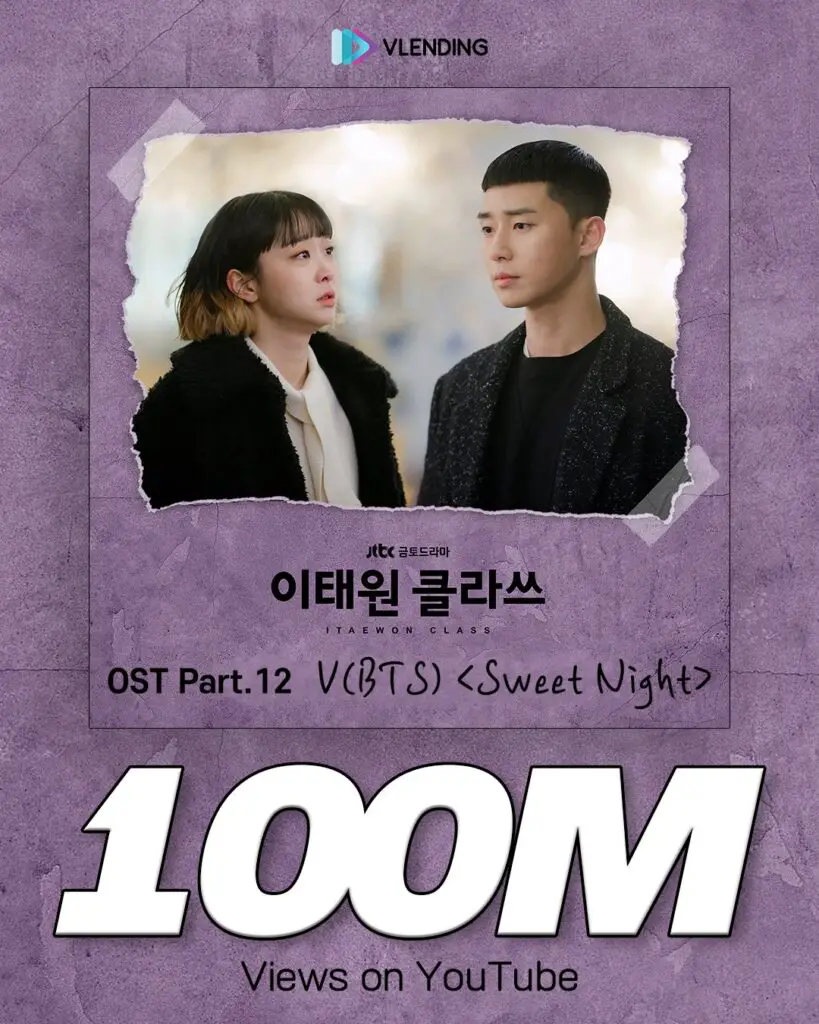 The Drama That Left an Indelible Mark
"Itaewon Class" is a South Korean television series that graced screens in early 2020. The show features a star-studded cast, including Park Seo-joon, Kim Da-mi, and Kwon Nara, and quickly became a sensation in South Korea and beyond. The storyline, based on a webtoon of the same name, revolves around the journey of a young ex-convict who embarks on a mission to open a bar in the bustling district of Itaewon, Seoul. The drama's themes of resilience, entrepreneurship, and social justice struck a chord with viewers, contributing to its widespread acclaim.
'Sweet Night' – The Perfect Musical Companion
The soundtrack of a K-drama often plays an integral role in its success. In the case of "Itaewon Class," the series struck gold with its choice of music, and one track, in particular, 'Sweet Night,' sung by BTS's V, emerged as a highlight. V's emotive and soulful vocals seamlessly captured the essence of the characters and the emotional nuances of the drama.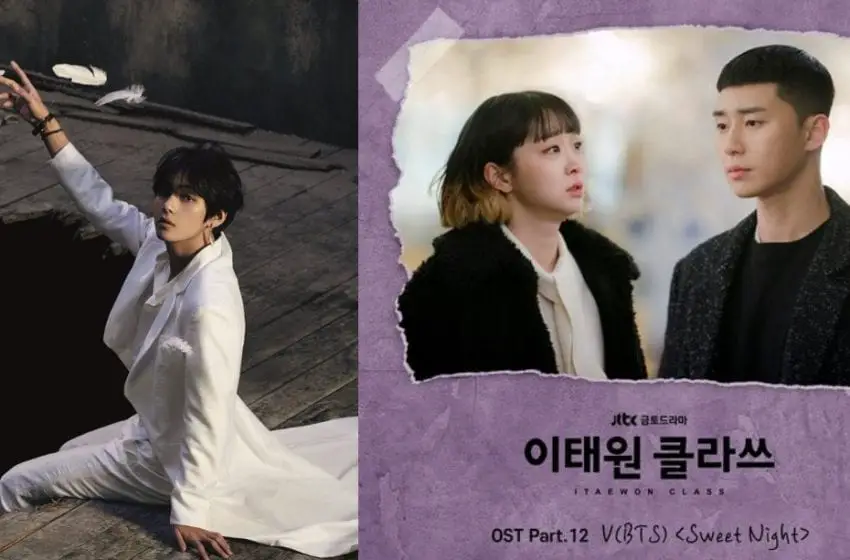 V's Captivating Voice
Taehyung, widely recognized as V in BTS, is celebrated not only for his stunning vocal prowess but also for his ability to convey profound emotions through his singing. 'Sweet Night' stands as a testament to V's musical artistry, with its bittersweet and melancholic tones that complement the drama's narrative flawlessly. The lyrics of the song eloquently express the yearning and desire to be reunited with a loved one, evoking deep emotions in both fans and casual listeners.
The Path to 100 Million Views
BTS and its members have garnered an enormous and dedicated fan base globally, affectionately known as the "ARMY." When 'Sweet Night' was released as part of the "Itaewon Class" soundtrack, it swiftly gained recognition for its beauty and depth. The song began accumulating views on YouTube at a rapid pace, thanks to the unwavering support of fans who tirelessly streamed it and shared it across various social media platforms. Consequently, it comes as no surprise that 'Sweet Night' has now reached the remarkable milestone of 100 million views.
A Testimony to K-Drama and BTS's Global Impact
The achievement of 'Sweet Night' reaching 100 million views is not just a celebration of V's musical prowess but also a testament to the global appeal of K-dramas and their memorable soundtracks. The song's poignant resonance with viewers and BTS enthusiasts has solidified its status as a cherished piece of art in the realm of entertainment.
For fans of BTS, this milestone is yet another affirmation of the group's tremendous influence and individual talents. It stands as a source of immense pride and elation, underscoring the significance of V's contribution to the world of music.
The attainment of 100 million views for 'Sweet Night' by BTS's V is a monumental achievement that underscores the magical allure of K-dramas, the power of V's captivating voice, and the steadfast support of the BTS ARMY. The song's popularity continues to burgeon, serving as a reminder of the profound connections that music can create and the emotions it can stir in the hearts of its listeners.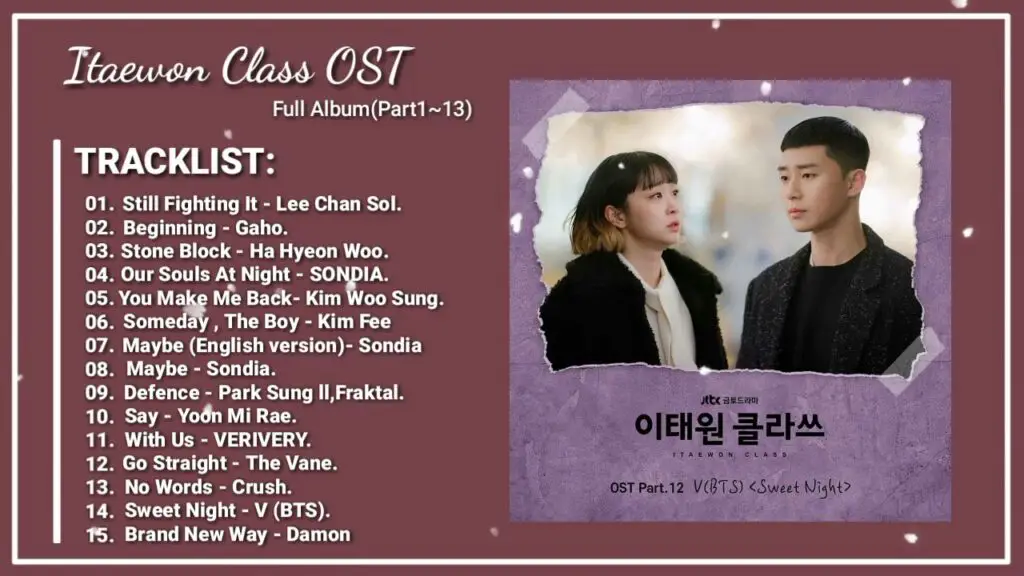 The Global Impact of K-Drama and BTS
The accomplishment of 'Sweet Night' reaching 100 million views is a testament to the immense influence of South Korean culture on the global stage. K-dramas have transcended cultural boundaries, gaining fans from diverse backgrounds who are drawn to their compelling storylines, relatable characters, and unforgettable soundtracks.
BTS, as a global music sensation, has played a pivotal role in introducing the world to Korean music and culture. Their music, combined with their charismatic performances and relatable messages, has forged a powerful connection with fans worldwide. 'Sweet Night' is a shining example of how BTS's members can contribute to both the K-drama and K-pop realms, creating a harmonious synergy between the two.
In a world where entertainment knows no borders, 'Sweet Night' stands as an embodiment of the unity that music and drama can bring. As fans eagerly await V's future musical endeavors and the next wave of captivating K-dramas, it's clear that the influence of South Korean culture, amplified by BTS's global prominence, will continue to shine brightly. The 100 million views of 'Sweet Night' are not just a milestone; they are a testament to the shared experiences and emotions that art can evoke, transcending languages and cultures.